It's been a little while, friends! Like many of you, I have been hibernating in self-isolation for quite some time, working on various writing projects, reorganizing every inch of my house, and trying to replace my unhealthy habits with things like drinking 9 cups of water a day and going to bed before 4am.
Before we jump right from months of silence into sales pitches for the anthology I've just completed editing, and my Patreon account, I feel the need to share (since this is billed as a newsletter on memoir-writing, grief, and cats) something about my grief process and where I'm currently at in hopes that it might resonate with some of you.
As many of you undoubtedly know by now, my father died by suicide two-and-a-half years ago. At that time I was in the midst of publishing my first book (in fact the launch was scheduled for the following week, and I couldn't be there for obvious reasons). I was also in the middle of training to become an herbalist, which also been put on hold for some time. I have spent these past couple years immersed in intense grief counseling and pretty much all of my writing projects, plus any other major life goals, were put on hold while I figured out how to move on from something as huge as my father's death. For a while I would say that my books, my writing, all of my creative endeavors and dreams for my life had died with my father. It felt impossible that anything beautiful could ever happen again.
During this time, I read somewhere that the grief process in its acute form lasts about three years. I was surprised by that number because I would have thought of an "acute phase" of grief as the immediate weeks or months after suffering a major loss, but I have learned since then just how much a sudden major trauma can completely derail a person and force them to reevaluate, restructure, and redirect their entire existence. I spent many months wondering when I'd be able to get back to herbalism again, when I'd be able to finish another project, etc. And to be honest, I haven't exactly lain dormant these past couple of years. My first book came out, then the anthology you'll read about in a moment (about a year later than planned, but it's here!) and in between all of that I have bought a house, started a garden, taken on new employment, and become reacquainted with a new version of myself I never thought would exist in this lifetime, now with new pandemic flavor! Loss has been a theme for many of us recently.
Last week I found out that a former romantic partner of mine passed away suddenly, and it brought up all those immediate feelings from the first few days after my father's death, and it continues to bring up memories, regrets, sorrows, and strange connections that have found their way into my journal entries, my dreams, and my memoir-in-progress. I think the greatest lesson I've learned in the past two years is the importance of prioritizing grief whenever possible, of really sinking down into it and feeling everything, processing everything, analyzing and notating and archiving every last bit that you can stand, otherwise it comes back to find you later. I have found that with every grief I experience, the more I allow myself the presence to truly sit with it, the more prepared I am for future griefs and the more enriching these moments are for me in understanding myself, my relationships with other people, and my place in the larger story of the world. Grief is a doorway, a portal.
"Practice Sinking in the Pit" - an erasure I made at my housewarming party in April, 2019. (Yes, my party had an erasure-making station. Highly recommend!)
All that to say, there have been many moments when I have felt this sense of "ah, yes, I am finally returning to the world after this long journey away inside my sadness," but in reality there is a perpetual journeying away and returning that exist simultaneously, fresh griefs will always present themselves when we least expect them, and through it all we hopefully become more resilient and more grounded in who we are and what we're here for. As for my process, I'm writing a memoir that I think will do justice to the relationship my father and I had, and I have restarted my herbalism education, so I guess things come full circle when they feel right. Even when it feels like the end of the world.
Thank you for taking this time to sit here with me.
Recommended listening: "Navigating Loss Without Closure," On Being Podcast (on complicated grief, ambiguous loss, the myth of closure, and epigenetics/generational trauma)
ERASE THE PATRIARCHY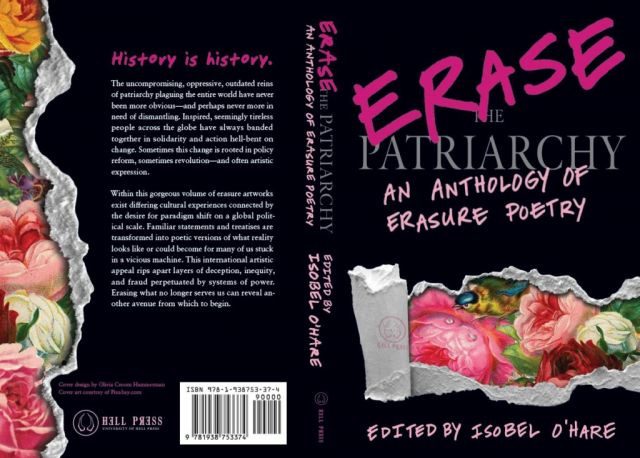 Erase the Patriarchy is now available from University of Hell Press! This book is printed in full-color and features erasures made with a vast array of materials including cooking spices, dirt, blood, paint, and collage. The pre-order period has ended and books are now shipping out! Check out our gorgeous list of contributors:
Ashely Adams, Amy Ash, Victorio Reyes Asili, Andrea Avery, Stacey Balkun, Iris Miriam Bloomfield, Chelsea Margaret Bodnar, Meghann Boltz, Liz Bowen, Tara Shea Burke, sally burnette, Tara Campbell, Zann Carter, Shane Jesse Christmass, Caitlin Cowan, Krista Cox, Laura Desiano, Caitlin M. Downs, Deborah Fass, Caren Florance, Kegan Gaspar, Sarah Gerard, Callie Gill, Tracy Gold, Elisabeth Mehl Greene, Meg E. Griffitts, Raye Hendrix, Joel Larson, Katie Manning, Christopher Martinez, Kate Middleton, Ash Miranda, Rachel Anna Neff, Genevieve Pfeiffer, Marcella Prokop, Adra Raine, Sarah Lyn Rogers, Maggie Rosenau, Ki Russell, Elizabeth Schmuhl, Jerrod Schwarz, kip shanks, Melinda Smith, Kitty Stryker, Rachel Sucher, Addie Tsai, Joanna C. Valente, Jodi Versaw, Alex Vigue, Tyler Vile, Emily Walling, Logan K. Young, Abigail Zimmer
---
BECOME A PATRON
I have relaunched my Patreon account with new perks like monthly live-streamed readings of new and/or old work and fun new levels such as Erasurescopes, which are horoscopes in erasure format created for each individual patron. Your erasure will be sent to you in the mail and will be made out of whatever materials I am currently obsessed with! To give you an example of what this might look like, here is one I made for a Scorpio friend: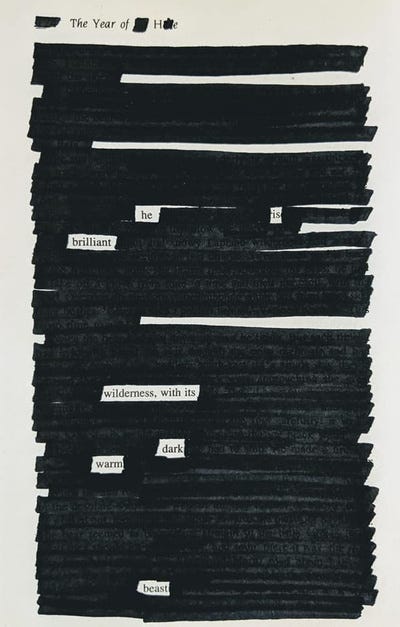 ---
BOOKS AND PRINTS ON SALE
Everything in my shop is currently on sale (books for 20% off and prints for 40% off). Hardcover copies are sold out for the foreseeable future, but paperbacks are still available!
---
READING / WATCHING / LISTENING
I am currently reading My Autobiography of Carson McCullers by Jenn Shapland, whose workshop on autofiction I took last week at SOMOS's 4th Annual Taos Writers Conference (which took place via Zoom this year). The book is an interesting take on memoir from the perspective of an author coming to terms with her own queerness through the discovery of McCullers's queer identity via therapy transcripts and letters.
As soon as the pandemic started, I registered an account on Shudder and started working my way through various film collections on there with my friend Kenning JP Garcia. We started with the queer collection, and the first film we watched from it is still my favorite of all the films we've watched together (and we watch 2-3 every week!) The film is Knife + Heart and centers on a porno film director, a serial killer targeting porn stars, and the film company's attempt to cash in on the sensational murders by incorporating mimicries of them into their productions. Extremely gay, extremely campy, with the most strangely beautiful murder scenes I think I've ever seen on film. (If you have the opportunity to become movie buddies in this way with a long-distance friend, I highly recommend it. These regular viewing sessions have been major morale boosters for me over the past few months.)
My favorite music discovery of this year is Arthur Russell who popped up on my Spotify at random and has become an obsession. Russell died from complications resulting from AIDS in 1992, at age 40. There is a documentary on his life on YouTube, which is named after my favorite track of his. I found out he is also mentioned in Kevin Killian's memoir, Fascination, which I will start reading soon.
That's it for now, friends. I hope you'll write back and tell me what you're working on these days, how you're coping, what you're loving in your time.