who can say where we're going?
Welcome to Libra season, friends.
I've been making these things I call Erasurescopes over on my Patreon page. Each month, the folks who've subscribed to the Analog Erasure tier receive an original erasure I've made specifically for them with their sun sign in mind, and I've got a Digital Erasure tier as well where you can get a monthly horoscope in the form of a digitally created erasure sent to your email.
The digital ones are broadly based on your sun sign, so everyone with that same sign will receive the same erasurescope, whereas the analog erasures are made just for you. I've included a photograph of one I made for a Libra patron at the beginning of September, and I look forward to playing around with some new (and more colorful!) materials for the October erasurescopes.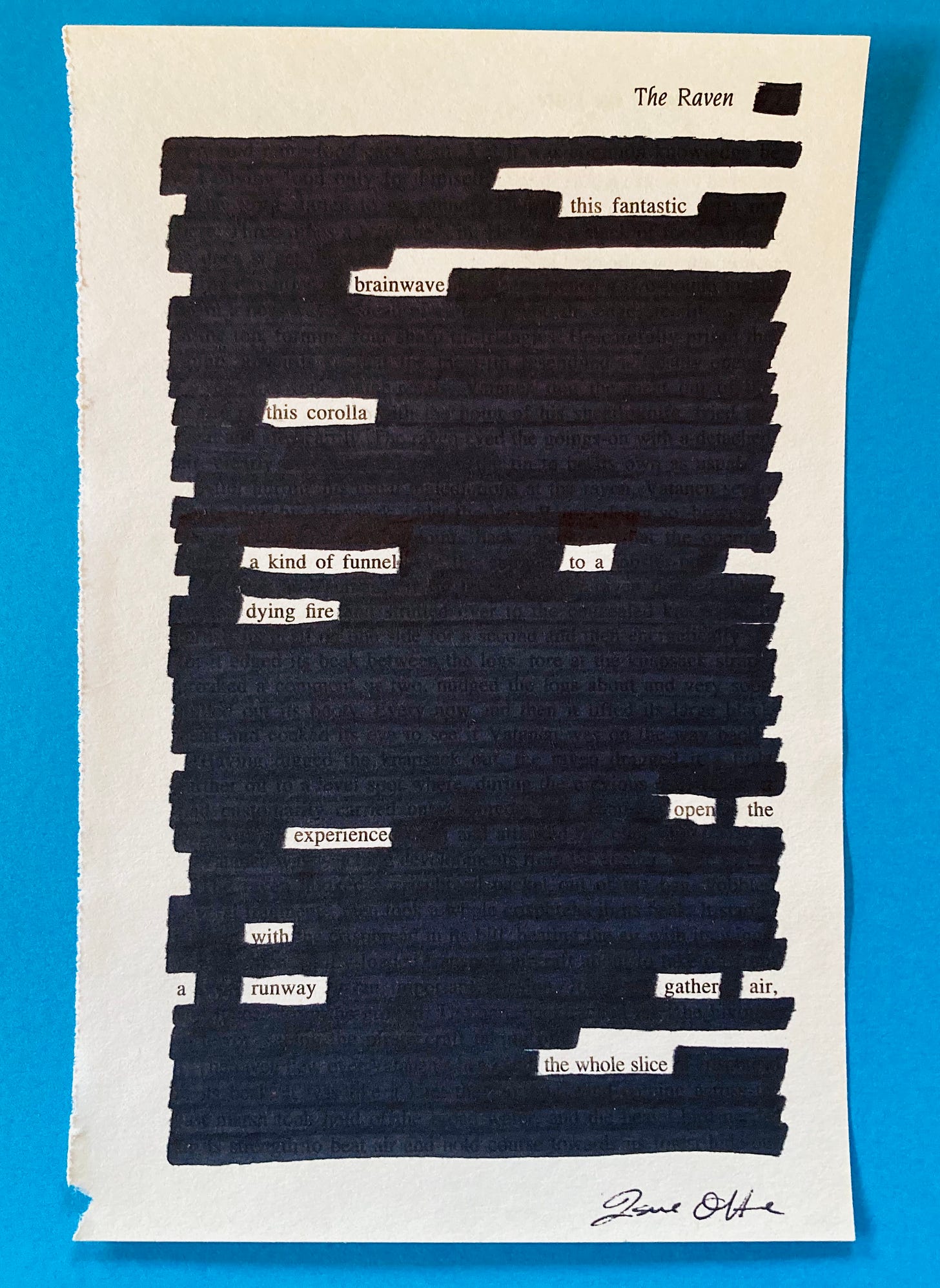 One of my favorite famous Libras, Bryan Ferry of Roxy Music (the namesake of my sweet tabby cat Ferry) turns 75 in four days, so please join me in chair-dancing to my favorite video of a musician watching a video of himself dancing. You know there is nothing more than this. Nothing.
---
Thanks to everyone who came out for both of the Zoom launch events for Erase the Patriarchy last week! We had 23 readers total share their work between the two events, which doesn't account for even half of the contributors to the book. It was wonderful for me to see some of the erasure artists' faces for the first time and to celebrate our book together.
Recordings from both events will be available to watch at the following links until the end of September:
---
READ / WATCH / LISTEN
As you might already know, my friend Kenning and I watch horror movies on Shudder together twice a week, and occasionally we take a detour and watch something non-horror (or at least, horror-adjacent) on Netflix. This time it was I'm Thinking of Ending Things, which I'm sure all of you have seen by now so we're in no way original in our viewing choices, but it felt very much to me like being inside the strange inner fantasy world of an incel with a pretend girlfriend constructed out of things from his childhood bedroom. Make of that interpretation what you will.
On a completely different note, I've been enjoying the launch of my friend Lucé Tomlin-Brenner's new podcast, It's Always Halloween, which begins with a brief history of the holiday before catapulting you straight into a bucket of goopy eyeballs! Like me, Lucé believes that Halloween is not one day out of a year, but an entire season, an entire lifetime even, a lifestyle all its own that deserves year-round celebratory immersion. If you feel the same way, I think you'll like it.
I have been reading slowly these days while I work through various projects, but I am almost done with Joy Harjo's memoir Crazy Brave (the perfect blend of lyric and narrative) and have recently acquired copies of the following four books from Erase the Patriarchy contributors:
The particular genius of Binary Star is that out of such grim material in constructs beauty. It's like a novel-shaped poem about addiction, codependence and the relentlessness of the everyday, a kind of elegy of emptiness."
-New York Times Book Review
Dear Twin is the most terrifying book I've read in years.

Addie Tsai has rendered a world blisteringly similar to the one we live in where acceptance of one's biography and queerness does not come easy. Dear Twin is the story of twins, the story of desire, the story of writing, and most importantly the story of eyes and bodies. It is rare that a book is as equally horrifying as it is beautiful, rigorous as it is readable, quiet as it is spectacular, but that is just what Tsai has created in Dear Twin. I have never read anything quite like it.

-Kiese Laymon, author of How to Slowly Kill Yourself and Others in America
I won't say that Campbell's is the book you didn't know you needed, because you do know it. You do need it. It's the rage, the elastic, ecstatic poetry, the sheer humor and horror of this country wrapped up in a gorgeous and furious collection, and it's truly the thing you need to read now.

-Amber Sparks, author of And I Do Not Forgive You and The Unfinished World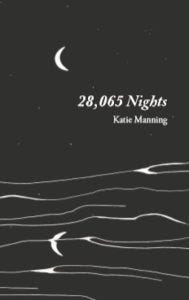 Reading Katie Manning's 28,065 Nights, I felt as if I were examining grief through the ever-changing lens of a telescope. The poems dilate and constrict, homing in on a dab of vanilla in "the small space behind each ear," then expanding to focus on the soaring vastness of death, "…the great egret at the swamp…the stillness after everyone is gone." These prose poems are letters to a grandmother whose "body of work is other people's bodies: children who made children who are still making more children." Manning reaches to the very core of wonder, awe, loss, and motherhood and transforms enormities—guilt, miscarriage, missed opportunity—into precise sharp moments: a kiss on the forehead, a bite of a fried bologna sandwich, a grandchild's small nose. I found myself stopping after each poem, breathing deeply at Katie Manning's mastery, at her love, and how she tells these stories "to keep myself alive."

-Jennifer Martelli, author of My Tarantella and After Bird
---
Buy my books on Bookshop.org!